While the living cost of a big city may place a burden to some students,it's still a better option for international student to start his new life in big cities like Beijing or Shanghai,for these cities can not only offer more top-class universities,but also some convenient facilities that can not be found somewhere else.Having decided to apply for a school in Beijing,do you know which one is the best for you?
Beijing Language and Culture University
Beijing Language and Culture University,known as BLCU,is one of the best universities in China for international students to study Chinese.Benefiting from its good reputation,BLCU is welcoming over 10,000 foreign students each year.
Apart from the beautiful campus and programs covering various areas,the experienced teachers there who always know how to help the students to break through the barriers of language learning is another precious asset of BLCU.Further more,instead of sitting in a class with couples of students who also came from other countries,you can attend a so-called 'Language Exchange Program' to study with other locals,so that you can immerse yourself in a total Chinese language environment.
For students wanting to get a bachelor's degree in Chinese,BLCU offers related programs such as Chinese language,Chinese Language (Chinese/English Bilingual Studies),Chinese Language (Chinese/Japanese Bilingual Studies) and so forth.Most programs are available in both spring and autumn semesters,which enables you to make a flexible arrangement .On top of that,BLCU is also famous for its various offering of non-degree programs.Lasting from only 4 weeks to more than 1 year,dozens of short-term and regular semester programs are waiting for students from abroad with certain purpose.Depending on how many class hours there are within a week,BLCU has divided all programs into two type:regular and intensive.In the first type,one student can get 30-hour courses per week,while in the latter,the class time for every week is 10 hours less.HSK training program is also vary welcomed by international students.Within 4 weeks,the participant can get an oriented Chinese education lasting for 80hrs in total.Students interested in this project can register in Winter or Summer class,however, you need to pay more for the Summer one. Courses are set up for advanced Chinese users to get a Master or Doctor's degree as well,and applicant's having passed HSK 6 is required.
As BLCU in situated not far from Wudaokou,where some say international students could even outnumber the local ones,the life of study there can be not the least boring.Bars,restaurants,shopping malls...whenever you are free,there are a number of places for you to kill some time.
In addition,there is even a service for the foreign students who are not familiar with this city,showing them how to get to those famous attractions in Beijing.Almost forgot to mention,this service is totally free!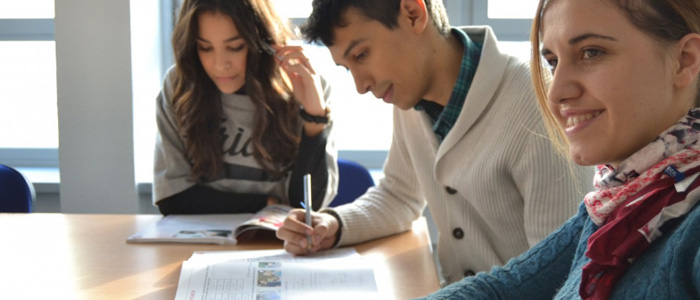 Beihang university
Founded in 1952,Beihang university(BUAA)is one of the best research-oriented universities in China,which is notable for its contribution to aeronautic engineering,astronautic engineering,technology and so on.One thing I need to point out is that to be a exchange student of Beihang university,one need to be enrolled at a partner school of BUAA at first.Now,BUAA has established a cooperative relationship with 152 universities all over the world.Students in UK,the USA,Canada,France,Germany and Russia may have a check of whether your school is in that list. Not being able to speak fluent Chinese will not be a problem for international students,for BUAA offers over 250 of its courses in English.To make itself become an international well-known university,BUAA is attracting over 1,000 experts and scholars from other countries every year as well.So don't worry,English is still quite useful in the campus.
Of course,it's no doubt that study Chinese will play a very important part during your semesters in BUAA.Once enter the university,you can apply for language courses of different class hours depending on your proficiency.
CLTC,stands for Chinese Language Training Center ,was a well-known department in BUAA,built for the aim of training skilled Chinese speaker.Not only in the various programs(which include General Chinese, Speaking Chinese and Technical Chinese )can a international student learn how to use Chinese,but also in some interesting activities they may have access to the usage and practice of the language .
All in all,like people say, 'different strokes for different folks', as for choosing a university, it's a thing affected by many factors,like reputation,situation,programs,etc.From my view,I suggest students who want to apply for a university in China do some investigation in advance,so that you can choose the most suitable place for you.